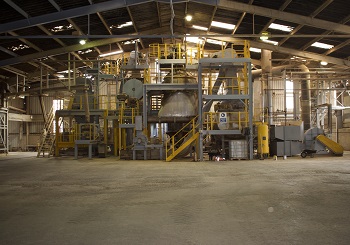 Our heat treatment facility in Goole utilises a unique system of steam &
pressure to cook products in order to add nutritional value.
Manufactured products include:
Full Fat Soya (Supersoy™) used in piglet diets
Oilseed & Feed Beans Mix (Beano™) used in poultry diets
Heat Treated Rapemeal (Prototec™)
Heat Treated Hipro Soya (Soypass™)
AminoPass Soy™
AminoPass Rap™
Soyatec™
Rapetec™

The production plant is at the heart of our business, producing high specification feed to the UK market. We run a modern plant, computer operated with a highly trained team which enables us to produce leading advanced hi- tech feeds for an ever changing market.
Manufacturing feed for all sectors of the agricultural market, supplying a large number of national businesses a variety of bespoke and speciality feeds. With the constantly evolving market place and challenges faced by the modern day farmer, we continue to develop new industry leading products providing our trade customers with a cutting edge range of superior of feeds. We would be pleased to discuss any specific requirements with you.
Please enquire if you would like a specialist product and we will endeavour to manufacture it for you.

Minimum quantities apply.